TO VOLUNTEER
Click Here to view the Volunteers of the Year Awards
Citizens from every walk of life who have been transformed by the love of Christ are given the opportunity to volunteer and share what life was like before and after they invited Jesus into their hearts. Hundreds of wounded youth are hearing amazing testimonies, which gives them hope for a brighter future. Dare to Dream is here today because of people who join me in my quest to establish an organization that will stand alongside youth who need someone and something to believe in.
#1 Please review our Volunteer Opportunity Form
#2 Once you have decided where you'd like to serve, fill out a Volunteer Application
#3 Send your application, volunteer opportunity sheet, and a copy of your drivers license to Dare to Dream Children's foundation 6310 LBJ Freeway, Suite 111, Dallas, Texas 75240

Once approved, two trainings are required - One with the Dallas County Juvenile Department and one with the Texas Youth Commission.

Current volunteers may log in: -- Volunteer Login
Some of our finest - Volunteers of the Year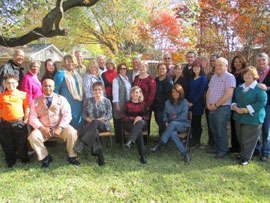 Some Volunteers at our
Dare to Dream Gathering 2015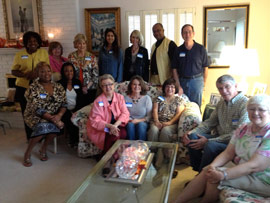 Some of our volunteers and friends at our
Dare to Dream Thanksgiving Gathering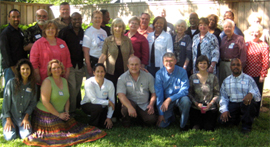 2009 Volunteer Rally
Back row left to right: Frank Hurtado, Tony Vera, John Heusinkveld, Travis Wortham, Dan Lenhart, Jim Hagan, Ted Cole, Donna Slater, Harold Wilson, Board member-Jimmy Slater, and Marsha Allen Second Row: Sheri Buckingham, Ignace Zidor, Armeda Jost, Jan Tennyson, Sarah Lenhart, Dorcas Kameri, Carolyn Stehr, Jacque Leonard, Jim and Dale Ash, Front Row: Suzanne Sutherlnd, Lisa Walker, Maria Reyes, Mark Brooks, Allan Buckingham, Barbie Cordier and Board member-Dennis Allen.
Some 2009 volunteers not pictured: Don & Judy Adaire, Gretchen Burns, Gay Darden-Carver, James Butler, Valerie Butler, Crew Dykes, Eric Flyg, Homer Freeman, Jack Gammon, Wayne Johnson, Paul Kramer, Gene Little, Clifford Mitchell, Chris Plekenpol, Judy & Charlie Pollinzi, Michelle Ross, David Russell, Della Sowunmi, Todd Thomas, and Virginia Tuggy.